E

XPLOSION-PROOF DUCT FANS - Type WO-EX
Explosion-proof duct fans are duct fans designed for operation in hazardous areas, endangered with explosion. They are characterized by solid construction using high quality raw materials and modern technology. The fan includes an aluminum housing in the shape of a channel (pipe) on both sides or one-sided ended with a straight flange with mounting holes, and with an axial impeller located directly on the shaft of an explosion-proof electric motor made in a reinforced housing. Explosion proof duct fans meet the requirements of the European Union Directive 94/9 / EC "ATEX" regarding devices intended for use in potentially explosive atmospheres (II 2G EEx e II T3 or T4).
We encourage you to contact us in order to prepare an offer that meets your expectations. We provide an individual approach to each client and the reasonable prices.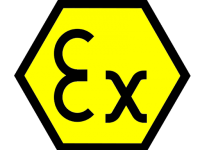 for air transport in potentially explosive areas
ASK

FOR AN OFFER (Inquiry)
In order to efficiently prepare the offer, we encourage you to use the Fan Selection Form, in which you can simply enter the fan parameters you are looking for. >>>