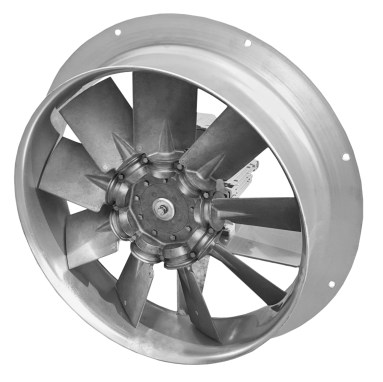 Wall fans – type WO-S are adapted for wall mounting and are used for forced air exchange. As a standard, the air flow takes place from the motor towards the impeller (A), optionally it is possible to make a fan with the flow from the impeller towards the motor (B), as well as the version with the reverse impeller (R), enabling operation in both directions with the same efficiency. Wall fans type WO-S consist of an aluminum housing, impeller and a special SIEMENS electric motor. The motors used are adapted to operate at temperatures up to + 40°C (optional up to +60°C) and to be adjusted by means of a frequency converter (inverter), made in insulation class F, 400V, 1400 rpm. or 2800 rpm. WO-S fans are easy to install and maintain. They are widely used in various industries for ventilation purposes, where large amounts of air should be transported at low pressure. They can easily be mounted on the wall at any height for better airflow. They are solidly made and are a desirable component in air pollution systems in various industries.
axial, made of polyamide or aluminum, number of blades 4-12, statically and dynamically balanced, operating temperature range from -20°C to + 100°C. Diameters from 290 to 960mm
aluminum, flanged, curved flange with mounting holes on the motor side, straight or curved on the impeller side, with a stand for the engine. It can also be made in a square frame.
electric, special, asynchronous, three-phase, 400V, protection class IP55, insulation class F, 1400 rpm, operating temperature from -20°C to +40°C (optional up to +60°C)
capacity from 2 500m³/h to 70 000m³/h
production halls, warehouses, poultry houses, workshops
wood, ceramic, food, agricultural and others
T

ECHNICAL DATA - WO-S type fans
| Fan type | Motor power | Supply voltage | Rpm | Max airflow | Working temperature | Acoustic pressure |
| --- | --- | --- | --- | --- | --- | --- |
| WO-S-300/6/0,18/ | 0,18 kW | ~ 400 V | 1400 | 2500 m³/h | -20 do +40°C | 63 dB(A) |
| WO-S-300/6/0,37/ | 0,37 kW | ~ 400 V | 2800 | 3200 m³/h | -20 do +40°C | 67 dB(A) |
| WO-S-300/4/0,55/ | 0,55 kW | ~ 400 V | 2800 | 3360 m³/h | -20 do +40°C | 68 dB(A) |
| WO-S-300/6/0,75/ | 0,75 kW | ~ 400 V | 2800 | 5050 m³/h | -20 do +40°C | 76 dB(A) |
| WO-S-400/6/0,18/ | 0,18 kW | ~ 400 V | 1400 | 5020 m³/h | -20 do +40°C | 66 dB(A) |
| WO-S-400/6/0,25/ | 0,25 kW | ~ 400 V | 1400 | 5770 m³/h | -20 do +40°C | 69 dB(A) |
| WO-S-400/8/0,37/ | 0,37 kW | ~ 400 V | 1400 | 5930 m³/h | -20 do +40°C | 70 dB(A) |
| WO-S-400/4/0,55/ | 0,55 kW | ~ 400 V | 2800 | 6140 m³/h | -20 do +40°C | 71 dB(A) |
| WO-S-400/4/0,75/ | 0,75 kW | ~ 400 V | 2800 | 7150 m³/h | -20 do +40°C | 74 dB(A) |
| WO-S-400/4/1,1/ | 1,1 kW | ~ 400 V | 2800 | 9170 m³/h | -20 do +40°C | 79 dB(A) |
| WO-S-400/6/1,5/ | 1,5 kW | ~ 400 V | 2800 | 10060 m³/h | -20 do +40°C | 80 dB(A) |
| WO-S-450/4/0,25/ | 0,25 kW | ~ 400 V | 1400 | 6560 m³/h | -20 do +40°C | 68 dB(A) |
| WO-S-450/6/0,37/ | 0,37 kW | ~ 400 V | 1400 | 7330 m³/h | -20 do +40°C | 70 dB(A) |
| WO-S-450/8/0,55/ | 0,55 kW | ~ 400 V | 1400 | 8240 m³/h | -20 do +40°C | 72 dB(A) |
| WO-S-450/3/0,75/ | 0,75 kW | ~ 400 V | 2800 | 8540 m³/h | -20 do +40°C | 73 dB(A) |
| WO-S-450/3/1,1/ | 1,1 kW | ~ 400 V | 2800 | 11130 m³/h | -20 do +40°C | 78 dB(A) |
| WO-S-450/6/1,5/ | 1,5 kW | ~ 400 V | 2800 | 11400 m³/h | -20 do +40°C | 79 dB(A) |
| WO-S-450/4/2,2/ | 2,2 kW | ~ 400 V | 2800 | 13740 m³/h | -20 do +40°C | 83 dB(A) |
| WO-S-450/6/3,0/ | 3,0 kW | ~ 400 V | 2800 | 15850 m³/h | -20 do +40°C | 86 dB(A) |
| WO-S-500/4/0,25/ | 0,25 kW | ~ 400 V | 1400 | 7200 m³/h | -20 do +40°C | 66 dB(A) |
| WO-S-500/4/0,37/ | 0,37 kW | ~ 400 V | 1400 | 8500 m³/h | -20 do +40°C | 69 dB(A) |
| WO-S-500/6/0,55/ | 0,55 kW | ~ 400 V | 1400 | 9550 m³/h | -20 do +40°C | 72 dB(A) |
| WO-S-500/8/0,75/ | 0,75 kW | ~ 400 V | 1400 | 10860 m³/h | -20 do +40°C | 74 dB(A) |
| WO-S-500/3/1,1/ | 1,1 kW | ~ 400 V | 2800 | 10800 m³/h | -20 do +40°C | 74 dB(A) |
| WO-S-500/3/1,5/ | 1,5 kW | ~ 400 V | 2800 | 13300 m³/h | -20 do +40°C | 79 dB(A) |
| WO-S-500/4/2,2/ | 2,2 kW | ~ 400 V | 2800 | 16000 m³/h | -20 do +40°C | 82 dB(A) |
| WO-S-500/4/3,0/ | 3,0 kW | ~ 400 V | 2800 | 17900 m³/h | -20 do +40°C | 85 dB(A) |
| WO-S-630/4/0,55/ | 0,55 kW | ~ 400 V | 1400 | 12900 m³/h | -20 do +40°C | 70 dB(A) |
| WO-S-630/4/0,75/ | 0,75 kW | ~ 400 V | 1400 | 14000 m³/h | -20 do +40°C | 72 dB(A) |
| WO-S-630/5/1,1/ | 1,1 kW | ~ 400 V | 1400 | 16900 m³/h | -20 do +40°C | 75 dB(A) |
| WO-S-630/8/1,5/ | 1,5 kW | ~ 400 V | 1400 | 19100 m³/h | -20 do +40°C | 78 dB(A) |
| WO-S-630/10/2,2/ | 2,2 kW | ~ 400 V | 1400 | 21000 m³/h | -20 do +40°C | 80 dB(A) |
| WO-S-630/4/3,0/ | 3,0 kW | ~ 400 V | 2800 | 18200 m³/h | -20 do +40°C | 77 dB(A) |
| WO-S-710/5/0,55/ | 0,55 kW | ~ 400 V | 1400 | 12100 m³/h | -20 do +40°C | 65 dB(A) |
| WO-S-710/4/0,75/ | 0,75 kW | ~ 400 V | 1400 | 15550 m³/h | -20 do +40°C | 70 dB(A) |
| WO-S-710/6/1,1/ | 1,1 kW | ~ 400 V | 1400 | 16100 m³/h | -20 do +40°C | 70 dB(A) |
| WO-S-710/5/1,5/ | 1,5 kW | ~ 400 V | 1400 | 20700 m³/h | -20 do +40°C | 76 dB(A) |
| WO-S-710/5/2,2/ | 2,2 kW | ~ 400 V | 1400 | 25100 m³/h | -20 do +40°C | 80 dB(A) |
| WO-S-710/6/3,0/ | 3,0 kW | ~ 400 V | 1400 | 28000 m³/h | -20 do +40°C | 82 dB(A) |
| WO-S-710/9/4,0/ | 4,0 kW | ~ 400 V | 1400 | 30400 m³/h | -20 do +40°C | 84 dB(A) |
| WO-S-800/4/1,1/ | 1,1 kW | ~ 400 V | 1400 | 19600 m³/h | -20 do +40°C | 70 dB(A) |
| WO-S-800/6/1,5/ | 1,5 kW | ~ 400 V | 1400 | 20800 m³/h | -20 do +40°C | 72 dB(A) |
| WO-S-800/5/2,2/ | 2,2 kW | ~ 400 V | 1400 | 28500 m³/h | -20 do +40°C | 78 dB(A) |
| WO-S-800/6/3,0/ | 3,0 kW | ~ 400 V | 1400 | 30500 m³/h | -20 do +40°C | 80 dB(A) |
| WO-S-800/6/4,0/ | 4,0 kW | ~ 400 V | 1400 | 35200 m³/h | -20 do +40°C | 83 dB(A) |
| WO-S-800/6/5,5/ | 5,5 kW | ~ 400 V | 1400 | 37550 m³/h | -20 do +40°C | 84 dB(A) |
| WO-S-800/7/7,5/ | 7,5 kW | ~ 400 V | 1400 | 43200 m³/h | -20 do +40°C | 87 dB(A) |
| WO-S-900/5/2,2/ | 2,2 kW | ~ 400 V | 1400 | 31200 m³/h | -20 do +40°C | 76 dB(A) |
| WO-S-900/6/3,0/ | 3,0 kW | ~ 400 V | 1400 | 33000 m³/h | -20 do +40°C | 77 dB(A) |
| WO-S-900/6/4,0/ | 4,0 kW | ~ 400 V | 1400 | 40000 m³/h | -20 do +40°C | 81 dB(A) |
| WO-S-900/6/5,5/ | 5,5 kW | ~ 400 V | 1400 | 43200 m³/h | -20 do +40°C | 83 dB(A) |
| WO-S-900/6/7,5/ | 7,5 kW | ~ 400 V | 1400 | 52200 m³/h | -20 do +40°C | 87 dB(A) |
| WO-S-1000/5/3,0/ | 3,0 kW | ~ 400 V | 1400 | 35900 m³/h | -20 do +40°C | 76 dB(A) |
| WO-S-1000/5/4,0/ | 4,0 kW | ~ 400 V | 1400 | 46000 m³/h | -20 do +40°C | 81 dB(A) |
| WO-S-1000/5/5,5/ | 5,5 kW | ~ 400 V | 1400 | 50300 m³/h | -20 do +40°C | 83 dB(A) |
| WO-S-1000/6/7,5/ | 7,5 kW | ~ 400 V | 1400 | 55700 m³/h | -20 do +40°C | 85 dB(A) |
| WO-S-1000/12/11/ | 11 kW | ~ 400 V | 1400 | 60100 m³/h | -20 do +40°C | 87 dB(A) |
| WO-S-1000/12/15/ | 15 kW | ~ 400 V | 1400 | 65400 m³/h | -20 do +40°C | 88 dB(A) |
| WO-S-1000/9/18,5/ | 18,5 kW | ~ 400 V | 1400 | 72500 m³/h | -20 do +40°C | 90 dB(A) |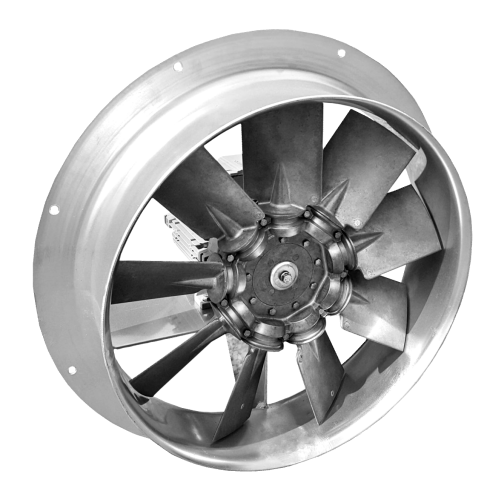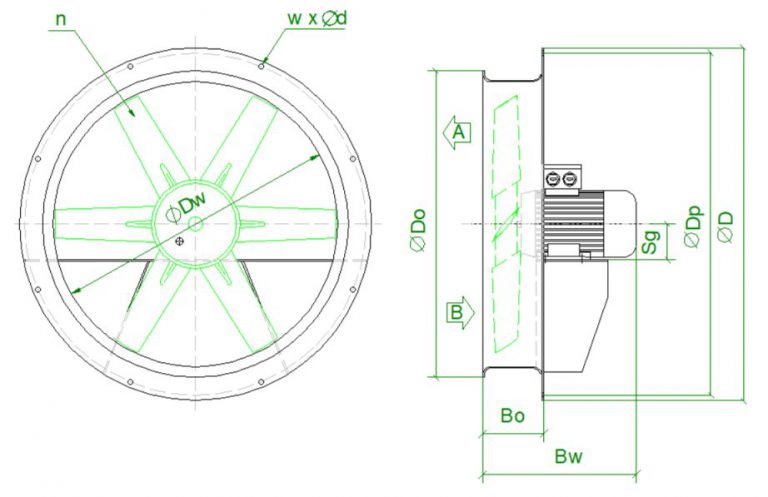 T

ECHNICAL DIMENSIONS - WO-S type fans
| Fan type | ØDw [mm] | Bo [mm] | Bw [mm] | ØD [mm] | ØDp [mm] | ØDo [mm] | Ød [mm] | Sg [mm] | n - numbers of blades | direction |
| --- | --- | --- | --- | --- | --- | --- | --- | --- | --- | --- |
| WO-S-300/... | 300 | 135 | 300 | 450 | 420 | 350 | 6 x 10 | 71 - 80 | 4 - 8 | A |
| WO-S-400/... | 400 | 135 | 300 | 550 | 520 | 450 | 6 x 10 | 71, 80, 90 | 4 - 8 | A |
| WO-S-450/... | 450 | 135 | 300 | 600 | 570 | 500 | 8 x 10 | 71, 80, 90 | 4 - 8 | A |
| WO-S-500/... | 500 | 140 | 300 | 650 | 620 | 540 | 8 x 10 | 71, 80,90 | 4 - 9 | A |
| WO-S-600/... | 600 | 150 | 310 | 775 | 728 | 650 | 8 x 10 | 80, 90, 100 | 4 - 12 | A |
| WO-S-630/... | 630 | 150 | 310 | 805 | 758 | 680 | 8 x 10 | 80, 90, 100 | 4 - 12 | A |
| WO-S-710/... | 710 | 150 | 400 | 880 | 820 | 750 | 8 x 12 | 90, 100, 112 | 4 - 12 | A |
| WO-S-800/... | 800 | 175 | 480 | 990 | 960 | 855 | 16 x 12 | 90, 100, 112, 132 | 4 - 12 | A |
| WO-S-900/... | 900 | 175 | 485 | 1110 | 1035 | 970 | 16 x 12 | 100, 112, 132 | 4 - 12 | A |
| WO-S-1000/... | 1000 | 200 | 500 | 1230 | 1155 | 1070 | 16 x 12 | 100 > | 4 - 12 | A |
ASK

FOR AN OFFER (Inquiry)
In order to efficiently prepare the offer, we encourage you to use the Fan Selection Form, in which you can simply enter the fan parameters you are looking for. >>>