F

ANS type WORP for storage rooms
WORP type fans for storage rooms are designed for work in facilities where various types of agricultural products (potatoes, cabbage, onions, apples, etc.) are stored. They consist of an aluminum channel housing (dimensions of round flanges in accordance with the standard PN-ISO 13351), aluminum impeller  and a special SIEMENS electric motor. The fan impeller has blades with a shape and setting enabling reverse operation and achieving the desired efficiency. Due to their design, they are adapted to work in an environment with high humidity, dust and temperature up to +40°C. To maintain the right climate in the storage room, the fans are characterized by high efficiency at the right pressure. They are also adapted to work with an inverter. WORP fans, due to their solid construction and technical parameters, are also used in the other industries.
axial, reversible, aluminum cast, number of blades 4-12, statically and dynamically balanced, operating temperature range from -20°C to +40°C. Diameters from 400 to 1000mm
aluminum or painted steel, channel type, properly profiled, with engine stand (Dimensions of round flanges are in accordance with a standard PN-ISO 13351)
electric, special, asynchronous, three-phase 400V / 50Hz, protection class IP55, insulation class F, 1450 rpm, adapted to work with an inverter, working environment temperature from -20°C to +40°C
capacity from 2,000m³/h to 90,000m³/h
Vegetable and fruit storage, e.g. carrots, apples, potatoes, onions, etc.
food industry, agricultural industry
Additional accessories (optional)
protective guard to install on the impeller side
mounting base for the fan
T

ECHNICAL DATA - WORP type fans for storage rooms
| Fan type | Engine power | Supply voltage | Rpm | Max airflow | Acoustic pressure | Technical data | Net price |
| --- | --- | --- | --- | --- | --- | --- | --- |
| WORP-500-AL/8/0,55 | 0,55 kW | ~ 400 V | 1450 | 8300 m³/h | 69 dB(A) | | |
| WORP-600-AL/9/0,9 | 0,9 kW | ~ 400 V | 1450 | 12200 m³/h | 71 dB(A) | | |
| WORP-600-AL/9/1,1 | 1,1 kW | ~ 400 V | 1450 | 13300 m³/h | 72 dB(A) | | |
| WORP-600-AL/9/1,5 | 1,5 kW | ~ 400 V | 1450 | 15300 m³/h | 75 dB(A) | | |
| WORP-710-AL/9/1,5 | 1,5 kW | ~ 400 V | 1450 | 20000 m³/h | 75 dB(A) | | |
| WORP-710-AL/9/2,2 | 2,2 kW | ~ 400 V | 1450 | 22900 m³/h | 78 dB(A) | | |
| WORP-800-AL/9/2,2 | 2,2 kW | ~ 400 V | 1450 | 25200 m³/h | 75 dB(A) | | |
| WORP-800-AL/9/3,0 | 3,0 kW | ~ 400 V | 1450 | 30000 m³/h | 78 dB(A) | | |
| WORP-800-AL/9/4,0 | 4,0 kW | ~ 400 V | 1450 | 35000 m³/h | 82 dB(A) | | |
| WORP-900-AL/9/4,0 | 4,0 kW | ~ 400 V | 1450 | 38 000 m³/h | 80 dB(A) | | |
| WORP-900-AL/6/5,5 | 5,5 kW | ~ 400 V | 1450 | 41400 m³/h | 82 dB(A) | | |
| WORP-1000-AL/8/5,5 | 5,5 kW | ~ 400 V | 1450 | 48100 m³/h | 82 dB(A) | | |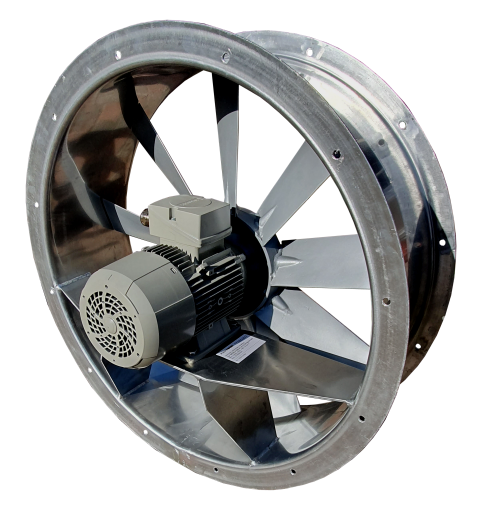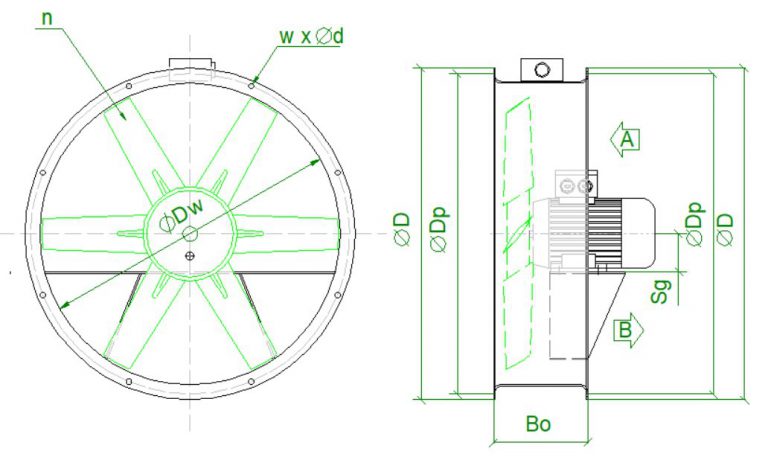 T

ECHNICAL DIMENSIONS - WORP type fans for storage rooms
| Fan type | ØDw [mm] | Bo [mm] | ØD [mm] | ØDp [mm] | Ød [mm] | Sg [mm] | n - number of blades | direction |
| --- | --- | --- | --- | --- | --- | --- | --- | --- |
| WORP-500-AL/... | 500 | 210 | 590 | 550 | 8 x 10 | 80 | 8 - 9 | A/B |
| WORP-600-AL/... | 600 | 210 | 690 | 650 | 8 x 10 | 80, 90 | 9 | A/B |
| WORP-710-AL/... | 710 | 250 | 790 | 750 | 8 x 12 | 90, 100 | 9 | A/B |
| WORP-800-AL/... | 800 | 250 | 900 | 860 | 12 x 12 | 100, 112 | 9 | A/B |
| WORP-900-AL/... | 900 | 300 | 1000 | 960 | 16 x 12 | 100, 112, 132 | 4 - 12 | A/B |
| WORP-1000-AL/... | 1000 | 350 | 1100 | 1060 | 16 x 12 | 132 | 4 - 12 | A/B |
ASK

FOR AN OFFER (Inquiry)
In order to efficiently prepare the offer, we encourage you to use the Fan Selection Form, in which you can simply enter the fan parameters you are looking for. >>>