F

ANS up to +120°C & +135°C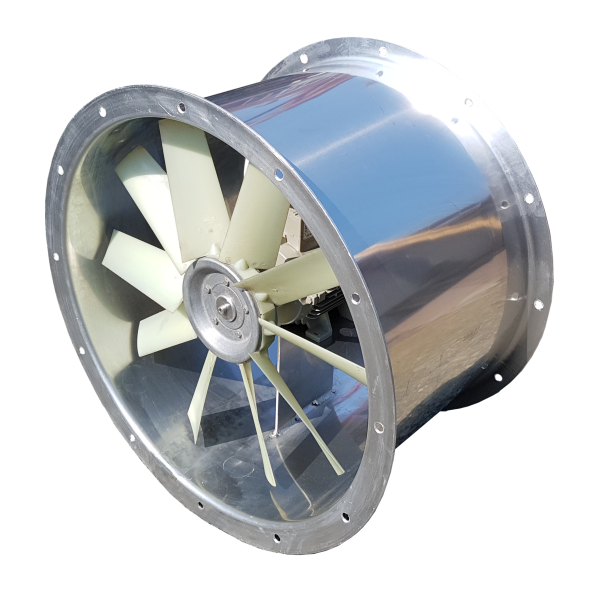 H

IGH-TEMPERATURE FANS - 120HT and 135HT
High temperature duct fans type WOK – 120HT and 135HT are direct drive axial fans in duct housing for operation in maximum temperature range up to + 120°C or in range up to + 135°C. They are characterized by solid construction using high quality raw materials and modern technology. The fan includes a housing made of aluminum in the shape of a channel (pipe) on both sides ended with a straight flange (dimensions of round flanges in accordance with the standard PN-ISO 13351), a special motor SIEMENS exe, adapted for operation at temperatures in range up to +120°C or in range up to +135°C (insulation class H), and with an aluminum axial impeller located directly on the shaft of the electric motor. High temperature fans are used to the transport of hot air and can work in many configurations with various heating devices. Due to the use of high-quality production materials, our fans perfectly cope with difficult working conditions and are widely used in many industries.
We encourage you to contact us in order to prepare an offer that meets your expectations. We provide an individual approach to each klient and reasonable prices.
capacity from 2 000m³/h to 100 000m³/h
industrial applications of supply or exhaust air, possibility of installation in a ventilation duct system or in free spaces. Industrial processes, hot air transport, drying, exhaust gas extracts, polluted-, most- and hot air (and other gases) extracts. Air heating, use for drying of: wood, paper, pasta, ceramic tiles, dog food, for cooperation with heating devices
wood, ceramic, varnish, thermal power plants, heavy industry, chemical, textile, food, paper, etc.
T

ECHNICAL DATA - WOK-120HT and 135HT type fans
Fan type

Motor power

Supply voltage

Rpm

Max airflow

Working temperature

Acoustic pressure

WOK-280-AL/6/0,18/

0,18 kW

~ 400 V

1400

2050 m³/h

+120 lub +135°C

61 dB(A)

WOK-280-AL/6/0,37/

0,37 kW

~ 400 V

2800

3100 m³/h

+120 lub +135°C

69 dB(A)

WOK-280-AL/6/0,55/

0,55 kW

~ 400 V

2800

4100 m³/h

+120 lub +135°C

75 dB(A)

WOK-315-AL/6/0,18/

0,18 kW

~ 400 V

1400

2900 m³/h

+120 lub +135°C

64 dB(A)

WOK-315-AL/6/0,37/

0,37 kW

~ 400 V

2800

3660 m³/h

+120 lub +135°C

75 dB(A)

WOK-315-AL/4/0,55/

0,55 kW

~ 400 V

2800

4650 m³/h

+120 lub +135°C

77 dB(A)

WOK-315-AL/6/0,75/

0,75 kW

~ 400 V

2800

5400 m³/h

+120 lub +135°C

76 dB(A)

WOK-355-AL/6/0,25/

0,25 kW

~ 400 V

1400

4100 m³/h

+120 lub +135°C

67 dB(A)

WOK-355-AL/6/0,55/

0,55 kW

~ 400 V

2800

5080 m³/h

+120 lub +135°C

71 dB(A)

WOK-355-AL/6/0,75/

0,75 kW

~ 400 V

2800

6100 m³/h

+120 lub +135°C

74 dB(A)

WOK-355-AL/6/1,1/

1,1 kW

~ 400 V

2800

7680 m³/h

+120 lub +135°C

79 dB(A)

WOK-400-AL/6/0,18/

0,18 kW

~ 400 V

1400

5020 m³/h

+120 lub +135°C

66 dB(A)

WOK-400-AL/6/0,25/

0,25 kW

~ 400 V

1400

5770 m³/h

+120 lub +135°C

69 dB(A)

WOK-400-AL/8/0,37/

0,37 kW

~ 400 V

1400

5930 m³/h

+120 lub +135°C

70 dB(A)

WOK-400-AL/4/0,55/

0,55 kW

~ 400 V

2800

6140 m³/h

+120 lub +135°C

71 dB(A)

WOK-400-AL/4/0,75/

0,75 kW

~ 400 V

2800

7150 m³/h

+120 lub +135°C

74 dB(A)

WOK-400-AL/4/1,1/

1,1 kW

~ 400 V

2800

9170 m³/h

+120 lub +135°C

79 dB(A)

WOK-400-AL/6/1,5/

1,5 kW

~ 400 V

2800

10060 m³/h

+120 lub +135°C

80 dB(A)

WOK-450-AL/4/0,25/

0,25 kW

~ 400 V

1400

6560 m³/h

+120 lub +135°C

68 dB(A)

WOK-450-AL/6/0,37/

0,37 kW

~ 400 V

1400

7330 m³/h

+120 lub +135°C

70 dB(A)

WOK-450-AL/8/0,55/

0,55 kW

~ 400 V

1400

8240 m³/h

+120 lub +135°C

72 dB(A)

WOK-450-AL/3/0,75/

0,75 kW

~ 400 V

2800

8540 m³/h

+120 lub +135°C

73 dB(A)

WOK-450-AL/3/1,1/

1,1 kW

~ 400 V

2800

11130 m³/h

+120 lub +135°C

78 dB(A)

WOK-450-AL/6/1,5/

1,5 kW

~ 400 V

2800

11400 m³/h

+120 lub +135°C

79 dB(A)

WOK-450-AL/4/2,2/

2,2 kW

~ 400 V

2800

13740 m³/h

+120 lub +135°C

83 dB(A)

WOK-450-AL/6/3,0/

3,0 kW

~ 400 V

2800

15850 m³/h

+120 lub +135°C

86 dB(A)

WOK-500-AL/4/0,25/

0,25 kW

~ 400 V

1400

7200 m³/h

+120 lub +135°C

66 dB(A)

WOK-500-AL/4/0,37/

0,37 kW

~ 400 V

1400

8500 m³/h

+120 lub +135°C

69 dB(A)

WOK-500-AL/6/0,55/

0,55 kW

~ 400 V

1400

9550 m³/h

+120 lub +135°C

72 dB(A)

WOK-500-AL/8/0,75/

0,75 kW

~ 400 V

1400

10860 m³/h

+120 lub +135°C

74 dB(A)

WOK-500-AL/3/1,1/

1,1 kW

~ 400 V

2800

10800 m³/h

+120 lub +135°C

74 dB(A)

WOK-500-AL/3/1,5/

1,5 kW

~ 400 V

2800

13300 m³/h

+120 lub +135°C

79 dB(A)

WOK-500-AL/4/2,2/

2,2 kW

~ 400 V

2800

16000 m³/h

+120 lub +135°C

82 dB(A)

WOK-500-AL/4/3,0/

3,0 kW

~ 400 V

2800

17900 m³/h

+120 lub +135°C

85 dB(A)

WOK-560-AL/3/0,37/

0,37 kW

~ 400 V

1400

10400 m³/h

+120 lub +135°C

68 dB(A)

WOK-560-AL/4/0,55/

0,55 kW

~ 400 V

1400

11650 m³/h

+120 lub +135°C

72 dB(A)

WOK-560-AL/6/0,75/

0,75 kW

~ 400 V

1400

12600 m³/h

+120 lub +135°C

73 dB(A)

WOK-560-AL/8/1,1/

1,1 kW

~ 400 V

1400

14400 m³/h

+120 lub +135°C

76 dB(A)

WOK-560-AL/3/1,5/

1,5 kW

~ 400 V

2800

15350 m³/h

+120 lub +135°C

78 dB(A)

WOK-560-AL/3/2,2/

2,2 kW

~ 400 V

2800

17400 m³/h

+120 lub +135°C

80 dB(A)

WOK-560-AL/4/3,0/

3,0 kW

~ 400 V

2800

18400 m³/h

+120 lub +135°C

81 dB(A)

WOK-630-AL/4/0,55/

0,55 kW

~ 400 V

1400

12900 m³/h

+120 lub +135°C

70 dB(A)

WOK-630-AL/4/0,75/

0,75 kW

~ 400 V

1400

14000 m³/h

+120 lub +135°C

72 dB(A)

WOK-630-AL/5/1,1/

1,1 kW

~ 400 V

1400

16900 m³/h

+120 lub +135°C

75 dB(A)

WOK-630-AL/8/1,5/

1,5 kW

~ 400 V

1400

19100 m³/h

+120 lub +135°C

78 dB(A)

WOK-630-AL/10/2,2/

2,2 kW

~ 400 V

1400

21000 m³/h

+120 lub +135°C

80 dB(A)

WOK-630-AL/4/3,0/

3,0 kW

~ 400 V

2800

18200 m³/h

+120 lub +135°C

77 dB(A)

WOK-710-AL/5/0,55/

0,55 kW

~ 400 V

1400

12100 m³/h

+120 lub +135°C

65 dB(A)

WOK-710-AL/4/0,75/

0,75 kW

~ 400 V

1400

15550 m³/h

+120 lub +135°C

70 dB(A)

WOK-710-AL/6/1,1/

1,1 kW

~ 400 V

1400

16100 m³/h

+120 lub +135°C

70 dB(A)

WOK-710-AL/5/1,5/

1,5 kW

~ 400 V

1400

20700 m³/h

+120 lub +135°C

76 dB(A)

WOK-710-AL/5/2,2/

2,2 kW

~ 400 V

1400

25100 m³/h

+120 lub +135°C

80 dB(A)

WOK-710-AL/6/3,0/

3,0 kW

~ 400 V

1400

28000 m³/h

+120 lub +135°C

82 dB(A)

WOK-710-AL/9/4,0/

4,0 kW

~ 400 V

1400

30400 m³/h

+120 lub +135°C

84 dB(A)

WOK-800-AL/4/1,1/

1,1 kW

~ 400 V

1400

19600 m³/h

+120 lub +135°C

70 dB(A)

WOK-800-AL/6/1,5/

1,5 kW

~ 400 V

1400

20800 m³/h

+120 lub +135°C

72 dB(A)

WOK-800-AL/5/2,2/

2,2 kW

~ 400 V

1400

28500 m³/h

+120 lub +135°C

78 dB(A)

WOK-800-AL/6/3,0/

3,0 kW

~ 400 V

1400

30500 m³/h

+120 lub +135°C

80 dB(A)

WOK-800-AL/6/4,0/

4,0 kW

~ 400 V

1400

35200 m³/h

+120 lub +135°C

83 dB(A)

WOK-800-AL/6/5,5/

5,5 kW

~ 400 V

1400

37550 m³/h

+120 lub +135°C

84 dB(A)

WOK-800-AL/7/7,5/

7,5 kW

~ 400 V

1400

43200 m³/h